14 die in flash floods in India's eastern Himalayas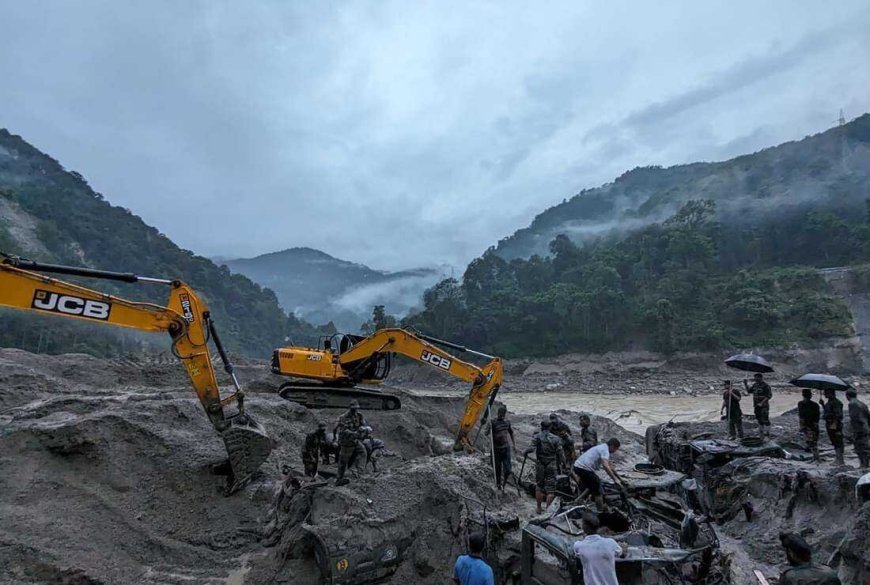 At least 14 people have died and 102 others are missing after a glacial lake outburst caused flash floods in a northeastern Indian state on Oct. 4.
"The cloudburst over the Lhonak Lake led to flash floods in low-lying areas of the Teesta River basin," said Chief Secretary Vijay Bhushan Pathak, the top official in the hilly state of Sikkim, bordering the Himalayan nation of Nepal.
The Chungthang dam, the largest hydropower project in Sikkim, suffered serious damage, further contributing to the massive impact of the Himalayan glacial lake outburst.
Severe damage has been caused in Mangan, Gangtok, Pakyong, and Namchi districts, said an official release by the government.
The state has deployed rescue and relief teams, comprising the National Disaster Response Force and the army. Defense spokesperson said there was a sudden rise in water levels up to 20 feet high downstream. Sikkim Chief Minister Prem Singh Tamang visited affected areas and assured his government's support.
According to the state-run disaster management control room, 14 people are confirmed dead and 102 others are missing and among the 22,234 affected people, 2,107 have been shifted to relief camps and 1,711 others have been evacuated.
Media reports said that more than 3,000 tourists had been stranded in different parts of the state which houses India's highest mountain, the 8,586-meter Kangchenjunga.
A Church leader associated with the rescue operations, however, told to News on Oct. 5 that the number is likely to go up as the rescue teams are yet to reach out to many affected areas.
The government said 13 bridges have been washed away, causing serious hurdles for relief teams. Police admitted that they are yet to establish contact with some of the affected areas.
"The situation in the flood-hit areas is bad as the road network has been washed away," said Mahindra Gurung, general secretary of the Sikhim Catholic Association. "All their belongings washed away. Rains are further hampering the rescue work," Gurung added.
Father Samuel Lepcha, director of the social work department of Darjeeling diocese in Sikkim, told UCA News on Oct. 5 that the Church is cooperating with the government to speed up rescue operations.
Sikkim, known for its dramatic landscape, along with six other provincial states, including Christian majority Meghalaya, make up India's northeastern region, bordering Myanmar, Nepal, Bangladesh and the Tibetan region.
The government has attributed the possible cause of the flash floods to a combination of excess rainfall and a Glacial Lake Outburst Flood (GLOF), a water-induced hazard that occurs when glaciers create reservoirs of water that can suddenly burst, leading to flash floods.
Scientists have repeatedly said that climate change is having a serious impact on the Himalayan glaciers and glacial lakes. Nepal was jolted by four earthquakes in quick succession on Oct. 3 and the impact was felt in northern India.
What's Your Reaction?