Blockbuster Durant To Suns Deal Tops Busy NBA Trade Deadline
The Durant move wrote an epitaph to the "Big Three" era of the Nets, who sent James Harden to Philadelphia a year ago and traded star guard Kyrie Irving to Dallas earlier this week.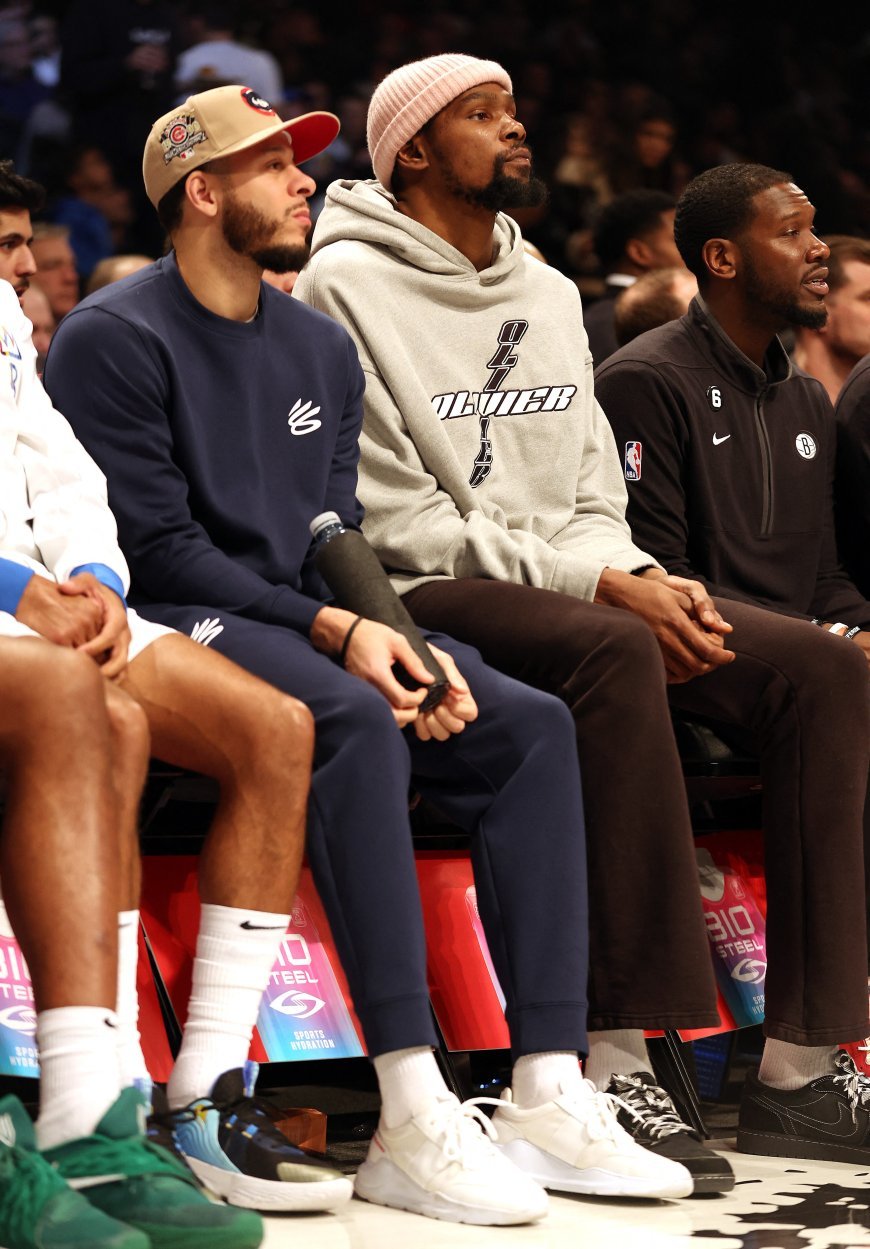 Kevin Durant's blockbuster move from Brooklyn to Phoenix turned the Suns into a major title contender and sparked a flurry of NBA trade deadline deals Thursday by roster-boosting rivals. The 34-year-old superstar joined Suns All-Star guards Chris Paul and Devin Booker plus Bahamian center Deandre Ayton, the top pick in the 2018 NBA Draft, to create what might be the NBA's most powerful lineup. Phoenix sent four first-round NBA Draft picks, swingman Mikal Bridges, forwards Cam Johnson and Jae Crowder and a 2028 pick swap to the Nets in exchange for Durant and forward T.J. Warren.
Crowder, who has sat out the 2022-23 season so far, didn't stay with the Nets long, reportedly being traded Thursday to the Milwaukee Bucks for five second-round NBA Draft picks.
The Suns confirmed their acquisition of Durant, first reported Wednesday night, with a tweet as multiple clubs posted photos and statements on social media welcoming their new players and bidding farewell tho those that had been traded.
There were plenty of moves as the balance of power in the Western Conference was shaken up by Durant's arrival and only two clubs, Chicago and Cleveland, chose not to make a deadline move.
The Durant move wrote an epitaph to the "Big Three" era of the Nets, who sent James Harden to Philadelphia a year ago and traded star guard Kyrie Irving to Dallas earlier this week.
The trio managed to play only 16 games together and win one playoff series after being seen as a title contender, instead finishing as one of the epic flops in NBA history.
The Los Angeles Lakers made multiple moves in hopes of reviving a woeful season by surrounding NBA all-time scoring leader LeBron James and star big man Anthony Davis with improved talent.
The Lakers, 25-30, sent Russell Westbrook to Utah in a three-team deal that brought Minnesota's D'Angelo Russell and Utah guard Malik Beasley and forward Jarred Vanderbilt.
On Thursday, the Lakers also sent center Thomas Bryant to Denver in exchange for three second-round NBA Draft picks and traded guard Patrick Beverley to the Orlando Magic for 7-foot (2.13m) center Mo Bamba.
Russell and Beasley added 3-point shooting skills and an outside threat to pair with Davis and James, who were recently joined by Japanese forward Rui Hachimura in a deal with Washington.
- Warriors obtain Payton -
Defending NBA champion Golden State obtained Gary Payton II from Portland for five second-round NBA Draft picks in a multi-team deal that sent Detroit forward Kevin Knox to the Trail Blazers.
The Warriors also sent James Wiseman to Detroit in a three-team deal that sent Sadiq Bey to Atlanta and brought Golden State the draft picks that landed Payton.
Golden State's moves will save more than $37 million in luxury tax cost over the next two seasons.
The Los Angeles Clippers obtained center Mason Plumlee from Charlotte for guard Reggie Jackson and sent guard Luke Kennard to Memphis in a three-team deal that also sent Houston guard Eric Gordon to LA and put John Wall and Danny Green to the Rockets.
The Clippers, who also added guard Bones Hyland from Denver for two second-round picks, reportedly will look at signing Westbrook if Utah buys out the former Lakers star's deal, adding some veteran talent and several newcomers around Kawhi Leonard and Paul George.
San Antonio sent players to two contenders, dealing guard Josh Richardson to New Orleans for Devonte Graham and four second-round picks and Austrian center Jakob Poeltl to Toronto for Canadian center Khem Birch and three draft picks.
Atlanta sent Justin Holiday and Frank Kaminsky to Houston for Bruno Fernando and Garrison Matthews in cost-cutting moves.
Indiana obtained Milwaukee guard George Hill and a draft pick.
Philadelphia added Charlotte forward Jalen McDaniels in a three-team deal that sent the 76ers' Matisse Thybulle to Portland.
(This story has not been edited by admin staff and is auto-generated from a syndicated feed.)
What's Your Reaction?