Centre To Review Covid-19 Situation In India Amid Spike In New Cases
Covid-19 Cases have seen an upward trend in the country recently. India on Thursday logged 5,335 fresh coronavirus cases, the highest in 195 days, while the active cases increased to 25,587.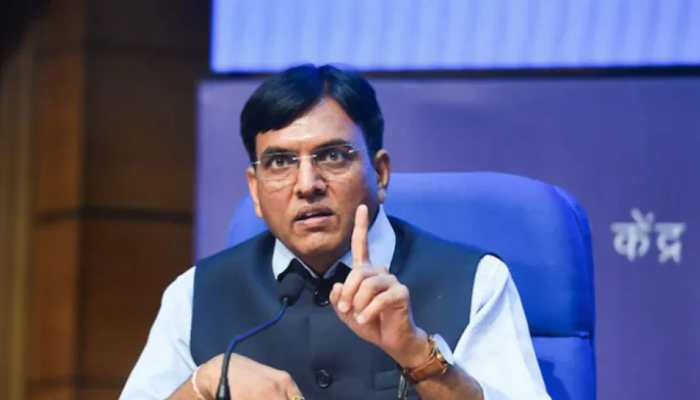 Amid a nationwide upward trend in the Covid-19 cases, Union Health Minister Dr Mansukh Mandaviya will chair a review meeting with the health ministers of all states and Union Territories on Friday afternoon. On Wednesday, the Covid-19 empowerment working group also conducted a review routine meeting. Dr V K Paul, Dr Rajiv Bahl, DG, ICMR and other senior health officials attended this meeting.
According to the sources, this was a review meeting to know the Covid-19 situation and preparedness in the country. The Indian SARS-CoV-2 Genomics Consortium (INSACOG) also attend the meeting. "We need to remain alert but there is no need to worry. Currently, the sub-variant of Omicron which is circulating in the country hasn`t increased hospitalisation," Mandaviya said on the Covid-19 situation in the country.
In March, Prime Minister Narendra Modi presided over a high-level meeting to take stock of the Covid and influenza situation in the nation. This meeting was called in response to a spike in influenza cases and a rise in Covid cases in preceding weeks. The Prime Minister directed officials to enhance the Whole Genome Sequencing of Positive Samples with the designated INSACOG Genome Sequencing Laboratories, which will support tracking of newer variants and timely response. He emphasized Covid appropriate behavior, including wearing masks on hospital premises by patients, health professionals, and health workers. He also stressed the importance of wearing masks when senior citizens and those with co-morbidities visit crowded areas.
Amid the Covid-19 spike in the country, Uttar Pradesh has reported its first death linked to the deadly Coronavirus this year, according to state health officials. The state also reported 192 fresh Covid-19 cases during the day while 68 patients recovered in the state, including one in the state capital Lucknow. At present, there are 842 active Covid-19 cases in the state. Meanwhile, Gurugram also reports its first Covid-19 death in over five months, despite the patient being fully vaccinated but with co-morbidities. Two cases of H3N2 influenza were also reported. The last time Gurugram recorded a Covid-19 death was on October 28 last year.
An elderly woman, who had tested positive for Covid-19 on April 2, died during treatment on Thursday while 35 more people tested positive for Covid-19 in Lucknow. The woman, who died was a resident of Lucknow`s Vrindavan Colony, and was admitted to a private hospital in Alambagh.
She was diagnosed as a patient of multi-organ failure and tested positive for Covid-19 with TrueNat method. "She was later shifted to King George`s Medical University (KGMU) where a second sample for Covid test was taken on April 4. The report of the second sample is awaited," said a senior health official.
Till now, the state capital has reported 2,701 Covid deaths since the pandemic began in March 2020. In the state, 23,650 deaths have been reported till now. Officials said once the confirmatory report of the sample taken at KGMU came, the death toll would be updated.
What's Your Reaction?