Titanic Submersible Destroyed In 'Catastrophic Implosion,' All Five Aboard Dead: US Coast Guard
The Titan's 96-hour oxygen supply likely ended early Thursday. OceanGate has been chronicling the Titanic's decay and the underwater ecosystem around it via yearly voyages since 2021.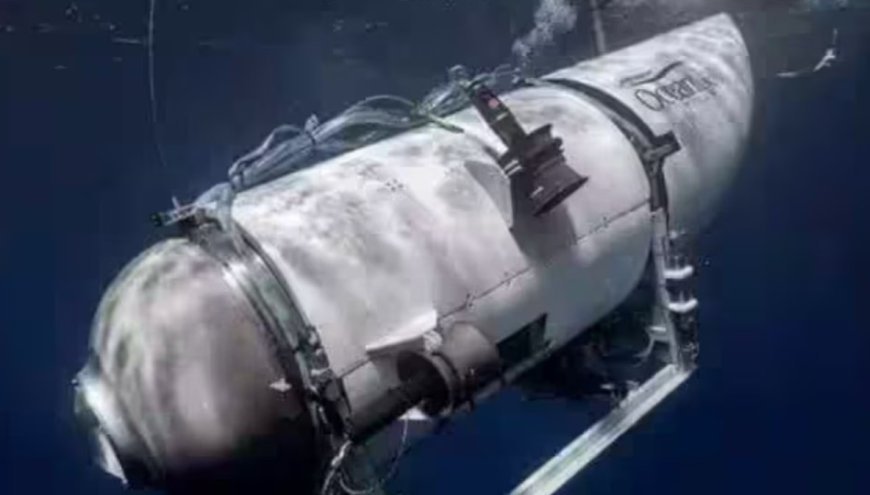 The US Coast Guard says a missing submersible imploded near the wreckage of the Titanic, killing all five people on board. Coast Guard officials said during a news conference Thursday that they've notified the families of the crew of the Titan, which has been missing for several days. Debris found during the search for the vessel 'is consistent with a catastrophic implosion of the vessel,' said Rear Adm. John Mauger of the First Coast Guard District.
"The outpouring of support in this highly complex search operation has been great appreciated. Our most heartfelt condolences go out to the friends and loved ones of the crew," Mauger said. OceanGate Expeditions said in a statement that all five people on board, including company CEO Stockton Rush, are believed to be dead. "Rush, Shahzada Dawood and his son Suleman Dawood, Hamish Harding, and Paul-Henri Nargeolet have sadly been lost," OceanGate said in a statement.
OceanGate did not provide details when the company announced the 'loss of life' in a statement or how officials knew the crew members perished. The Titan's 96-hour oxygen supply likely ended early Thursday. OceanGate has been chronicling the Titanic's decay and the underwater ecosystem around it via yearly voyages since 2021. The Titan was estimated to have about a four-day supply of breathable air when it launched Sunday morning in the North Atlantic but experts have emphasized that was an imprecise approximation to begin with and could be extended if passengers have taken measures to conserve breathable air. And it's not known if they survived since the sub's disappearance.
Rescuers have rushed ships, planes and other equipment to the site of the disappearance. On Thursday, the U.S. Coast Guard said an undersea robot sent by a Canadian ship had reached the sea floor, while a French research institute said a deep-diving robot with cameras, lights and arms also joined the operation. Authorities have been hoping underwater sounds might help narrow their search, whose coverage area has been expanded to thousands of miles - twice the size of Connecticut and in waters 2 1/2 miles (4 kilometers) deep. Coast Guard officials said underwater noises were detected in the search area Tuesday and Wednesday.
Jamie Pringle, an expert in Forensic Geosciences at Keele University, in England, said even if the noises came from the submersible, "The lack of oxygen is key now; even if they find it, they still need to get to the surface and unbolt it." The Titan was reported overdue Sunday afternoon about 435 miles (700 kilometers) south of St. John's, Newfoundland, as it was on its way to where the iconic ocean liner sank more than a century ago. OceanGate Expeditions, which is leading the trip, has been chronicling the Titanic's decay and the underwater ecosystem around it via yearly voyages since 2021.
By Thursday morning, hope was running out that anyone on board the vessel would be found alive.
Dr. Rob Larter, a marine geophysicist with the British Antarctic Survey, emphasized the difficulty of finding something the size of the submersible, which is about 22 feet (6.5 meters) long and 9 feet (nearly 3 meters) high. "You're talking about totally dark environments," in which an object several dozen feet away can be missed, he said. "It's just a needle in a haystack situation unless you've got a pretty precise location."
Newly uncovered allegations suggest there had been significant warnings made about vessel safety during the submersible's development. Broadcasters around the world started newscasts at the critical hour Thursday with news of the submersible. The Saudi-owned satellite channel Al Arabiya showed a clock on air counting down to their estimate of when the air could potentially run out.
Captain Jamie Frederick of the First Coast Guard District said a day earlier that authorities were still holding out hope of saving the five passengers onboard. "This is a search-and-rescue mission, 100%," he said Wednesday. Retired Navy Capt. Carl Hartsfield, now the director of the Woods Hole Oceanographic Systems Laboratory, said the sounds detected have been described as 'banging noises," but he warned that search crews 'have to put the whole picture together in context and they have to eliminate potential manmade sources other than the Titan.' Frederick acknowledged Wednesday that authorities didn't know what the sounds were.
The report of sounds was encouraging to some experts because submarine crews unable to communicate with the surface are taught to bang on their submersible's hull to be detected by sonar. The U.S. Navy said in a statement Wednesday that it was sending a specialized salvage system that's capable of hoisting "large, bulky and heavy undersea objects such as aircraft or small vessels."
What's Your Reaction?