'Was A Privilege...": Virat Kohli On Shubman Gill's Terrific Double Ton
Virat Kohli lauded Shubman Gill on becoming the eighth batter to score a double ton in ODIs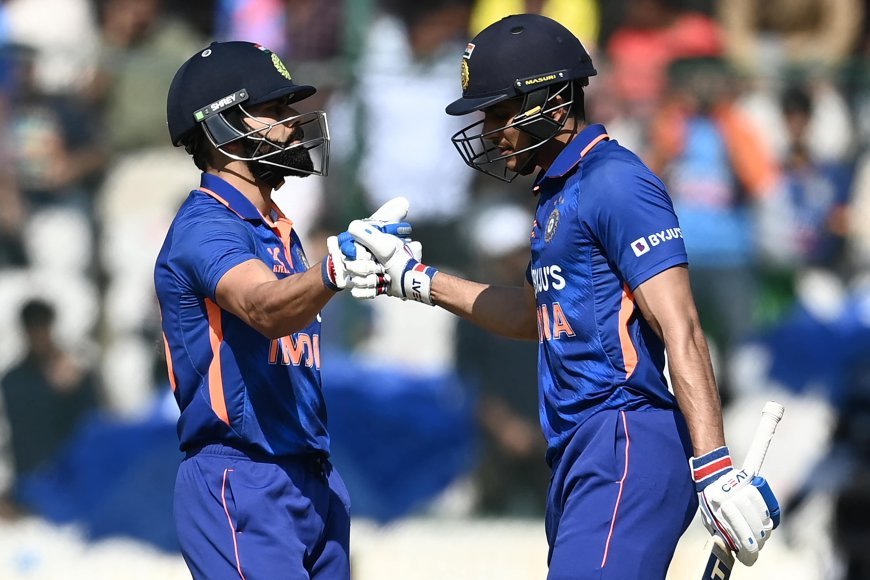 Shubman Gill entered an elite list on Wednesday as he came the eighth batter to score a double ton in ODIs. He scored 208 against New Zealand in Hyderabad. Gill stepped up his innings brilliantly with his first 50 coming off 52 balls. He went from 50 to 100 off just 35 deliveries and again from 100 to 150 off just 35 balls. But it was his final flurry that saw the acceleration really take off, with Gill going from 150 to 200 in just 23 balls, passing the double-century mark, thanks to three consecutive sixes.
Later, the team celebrated Gill's feat. The BCCI posted a video of the same.
"I would call it outstanding. Especially considering that the next best score wasn't even 40, and the fact that he got a double hundred was a knock at a very, very high level," said Kohli in the video.
"I think he was totally in his element today and showed why so many people have been saying such great things about him for years. I wish him all the best. Hope he builds on this. Today it was just a privilege to watch him bat."
Gill, after the match, opened up on how he planned his innings. "With wickets falling, at times I wanted to unleash and I'm glad I could do it at the end. Sometimes when the bowler is on top, you need to make them feel under pressure," Gill said about his strategy.
"I needed to avoid dot balls and show some intent and hit hard into the gaps which I was doing.
"I wasn't really thinking of 200, but once I hit sixes in the 47th over, I did feel that I could. Before that, I was playing what was coming to me." At 23 years and 132 days, Gill is now the youngest player to score a double-hundred in men's ODIs, eclipsing his teammate Ishan Kishan, who set the record with his 210 against Bangladesh last month at the age of 24 years and 145 days.
"He (Kishan) is one of my best mates... It feels nice when you are wanting to do something and it is coming off on a regular basis," Gill said.
Gill took 19 innings to complete 1000 runs in ODIs, joint-second fastest to the feat alongside Imam-ul-Haq.
Fakhar Zaman is the quickest to the mark, having got there in 18 innings.
With PTi inputs
What's Your Reaction?