'Are People Who Debate About Democracy Anti-National': Congress Chief Mallikarjun Kharge Hits Back At BJP's JP Nadda
Mallikarjun Kharge said that he condemned JP Nadda's statement and dismissed BJP's demands for an apology from Rahul Gandhi.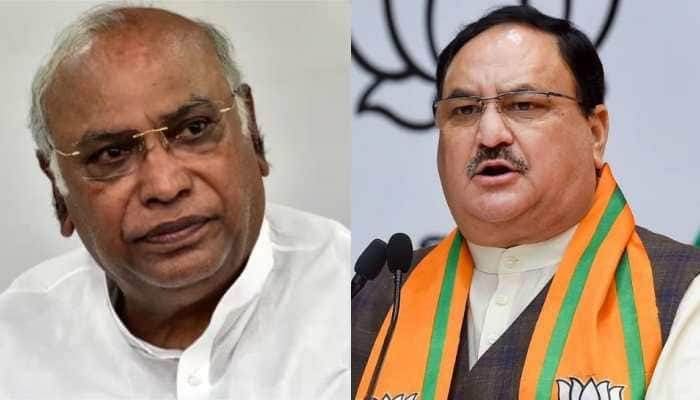 Congress chief Mallikarjun Kharge came to Rahul Gandhi's defense after BJP president JP Nadda launched heavy attacks at the Congress MP and demanded an apology from him for his remarks during his London visit. Kharge condemned Nadda's statement and asked if people who debate about democracy are anti-national. He also claimed that the BJP didn't take part in India's freedom struggle. "They (BJP) themselves are anti-national. They never took part in India's freedom movement, worked for the Britishers and they are calling others anti-national? They are doing this to deviate from issues of unemployment and inflation," he told the news agency ANI.
He further argued, "Can Rahul Gandhi ever be anti-national? Are people who debate about democracy anti-national?"
"I condemn JP Nadda's statement. There is no point of apologising. We will give a strong reply to this in the Parliament. Rahul Gandhi Ji will himself reply on this, that`s why they (BJP) are scared. Why are they not giving him a chance to speak in Parliament," Kharge said.
In a public statement, BJP president JP Nadda on Friday (March 17) accused Gandhi of "insulting" the country and the Parliament abroad. Joining a chorus of other BJP leaders castigating the Congress leader, Nadda also said that Rahul has become a part of the "anti-nationalist toolkit", criticising him for remarks made by Gandhi about Indian democracy in London. "Congress is now part of anti-national activities...Rahul Gandhi has now become a permanent part of this anti-nationalist toolkit," he said.
"Rahul Gandhi, what is your intention when you demand the intervention of another country in the internal matters of India? At a time when India is becoming the 5th largest economy in the world and G20 meetings are being held here, Rahul Gandhi on foreign soil is insulting the nation and the Parliament," the BJP leader further said.
What's Your Reaction?