Watch: TV Anchor Falls As Fielder Crashes With Her. Then Says This
In a video posted by Super Sport on Twitter, Pakistan anchor Zainab Abbas can be seen commenting on the match while standing right outside the boundary line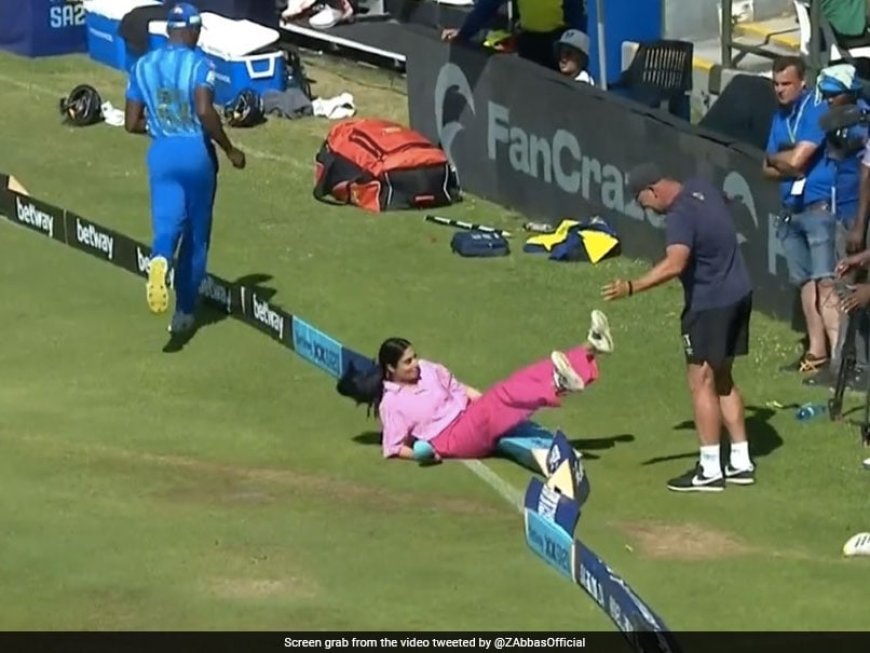 Cricket can often be witness to bizarre incidents. One such happened on Wednesday during a SA20 league game between Sunrisers Eastern Cape and MI Cape Town at the Centurion. In a video posted by Super Sport on Twitter, Pakistan anchor Zainab Abbas can be seen commenting on the match while standing right outside the boundary line. In the 13th over, Sunrisers Eastern Cape's Marco Jansen great shot towards mid-wciket off Sam Curran as the fielder present , in his desperation to stop the ball, made a strong dash only to crash with Abbas.
"I've survived, but now I know how it feels! get that ice pack out .." she later tweeted along with a video of the incident.
I've survived, but now I know how it feels! get that ice pack out .. https://t.co/k5ULfsOPdd — zainab abbas (@ZAbbasOfficial) January 18, 2023
Talking about the match, Sunrisers Eastern Cape pulled off a great win by chasing a target of 172. Sunrisers were five down even before scoring 100 runs. But Marco Jansen's 66 off just 27 deliveries helped them go over the line.
Left-arm pacer Jansen hit seven sixes and three boundaries in his knock. His strike-rate was 244.44.
SA20 has confirmed exciting additions to its playing format for the inaugural season starting on 10 January. The six teams will play 33 matches in total, including three playoff matches that consist of two semi-finals and the final. The additions have been included to improve the quality of the product while preserving the sanctity of the game.
In an innovative move to level the playing field, each captain can nominate 13 players to take the field before the toss. After the toss, each captain can select their final starting XI and the remainder of the players will automatically become substitute players.
Teams will be encouraged to put in dominant performances, with the winning team awarded four points and a bonus-point win generating five points. The bonus point will be awarded to a team who achieves a run rate of 1.25 times that of the opposition. In case of a no result, both teams will be awarded two points, while the losing team will not receive any points.
What's Your Reaction?