PM Modi responds positively to hosting pope in India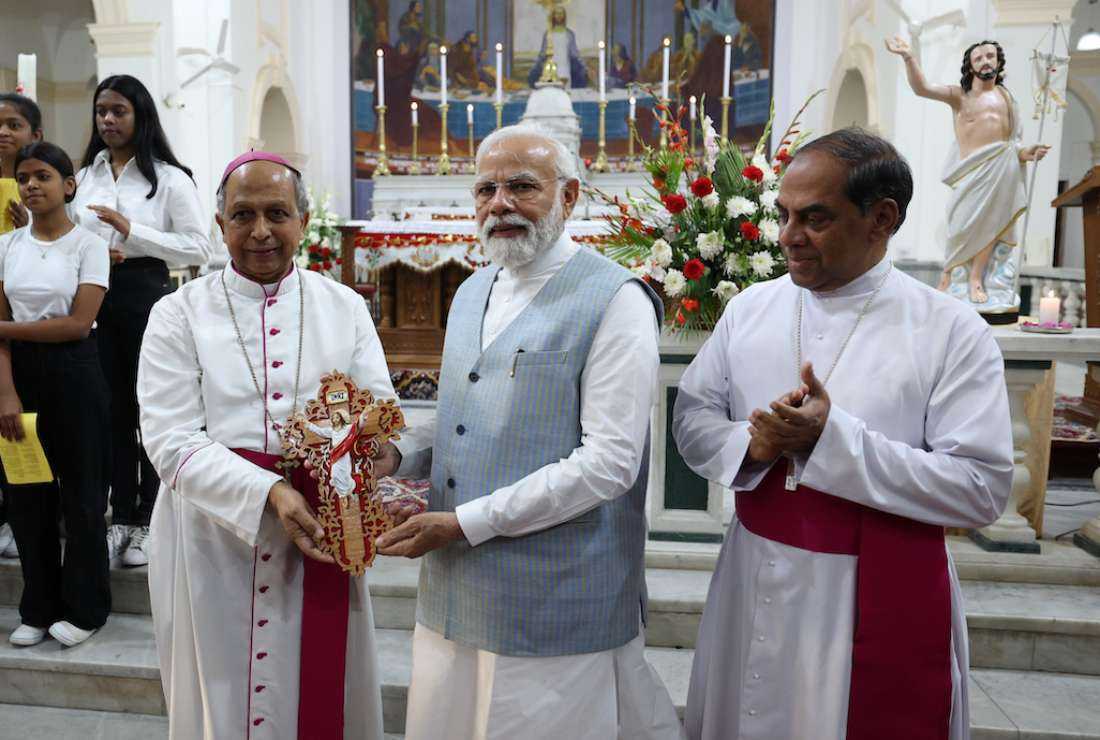 Archbishop Anil Thomas Couto of Delhi presenting a statue to Modi when he visited New Delhi's Sacred Heart Cathedral on April 9, Easter Sunday
Church leaders in a southern Indian state have called on visiting Prime Minister Narendra Modi and apprised him of the concerns of the Christian community and talked about a possible papal visit to India.
Leaders from seven Church denominations met Modi on April 24 in a private hotel in Kochi, the financial capital of Kerala. Modi arrived in Kochi on a two-day official visit of Kerala.
Cardinal George Alencherry, head of the Kerala-based Eastern rite Syro-Malabar Church, termed the meeting with Modi "very successful."
In a video released on Shekinah News, a Catholic news channel based in Kerala, Cardinal Alencherry said the delegation discussed burning issues of violence against Christians and reservation quota for Dalit (former untouchables) Christians with Modi.
The meeting comes amid allegations that ever since Modi came to power in New Delhi in 2014 attacks against Christians have increased, particularly in northern states, most of them ruled by Modi's pro-Hindu Bharatiya Janata Party (BJP).
Modi is also accused of being silent against Hindu violence against Christians.
Dalit Christians in the country have been demanding social benefits given to lower caste people but Modi's government has been opposing it saying Christianity has no castes.
Cardinal Alecherry also said they apprised Modi of farmers' issues and the plight of fishermen in Kerala's coastal areas.
Catholic fishermen in Kerala's capital, Thiruvananthapuram, had resorted to a massive strike against an upcoming port facility last year.
The prime minister has promised protection to all people irrespective of religious affiliations, the cardinal said in the video.
Modi responded positively to hosting Pope Francis in India, added the cardinal. He had earlier invited Pope Francis to visit India during their meeting in Rome on Oct. 30, 2021.
Pope John Paul II was the last pope to visit India in 1999 when BJP's Atal Bihari Vajpayee was the prime minister.
Modi is also the first Indian prime minister to meet Francis since the latter became the head of the Catholic Church in 2013.
Besides Cardinal Alencherry, prominent members of the delegation included Cardinal Baselios Cleemis, head of the Eastern rite Syro-Malankara Catholic Church, and Archbishop Joseph Kalathiparambil of the Latin Catholic Church.
This is the second interaction of Church leaders with Modi since Easter this year. Modi visited Sacred Heart Cathedral in the national capital New Delhi on Easter Sunday evening (April 9) for the first time since he became Prime Minister in 2014.
This meeting of bishops from Kerala is considered a continuation of Modi's initiative to get closer to the Christian community ahead of the general elections next year.
Christians make up 2. 3 percent of India's 1.4 billion population. But in Kerala, they form 18 percent of the state's 33 million people and are politically decisive in some pockets.
But Christian leaders are skeptical that Modi's meetings with Church leaders help his party to win Christian votes.
What's Your Reaction?