Delhi: BJP Puts Up Hoardings Calling For Kejriwal's Resignation After ED Raids AAP's Sanjay Singh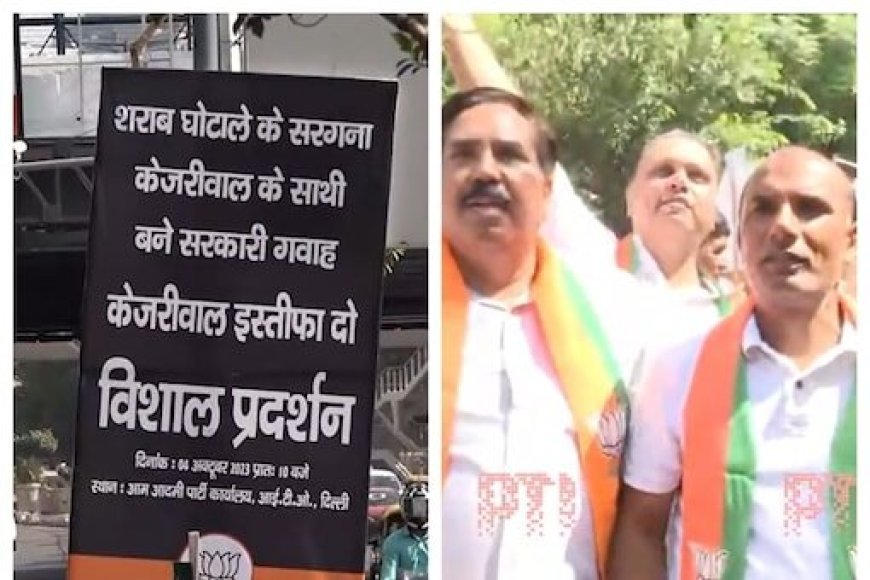 The Bharatiya Janata Party (BJP) on Wednesday put up hoardings demanding Delhi chief minister and Aam Aadmi Party (AAP) supremo Arvind Kejriwal to resign amid the raids on AAP MP Sanjay Singh by the Enforcement Directorate (ED) in connection with the liquor policy scam.
The hoardings put up in Delhi's ITO and at AAP's office read, "The mastermind of the liquor scam. Kejriwal's friend became a government witness. Kejriwal resign."
The BJP workers also staged a protest outside AAP office demanding Kejriwal's resignation.
Meanwhile, BJP leader Parvesh Verma — during the party's protest outside AAP office — said, "Sanjay Singh's name has always been there in the Delhi excise policy scam. The people who were caught during the probe must have named him during the interrogation, which is why there is a raid at his house." Verma said that the raids are not conducted without evidence.
After the ED raids began at the AAP MP's residence, leaders from both AAP and BJP have been raining down each other with allegations of corruption. The official X handle of AAP — hours after the raids began — posted an image of Singh with a poster in the background which read, "Welcome to the Fakkad House, ED!"
Senior Congress leader Digvijay Singh came out in support of the AAP MP and said, "I condemn the raids on MP Sanjay Singh's residence."
AAP supremo Arvind Kejriwal, on the other hand, said that the ED has not recovered a single penny in nearly thousands of their raids, adding that, they will not find anything at Sanjay Singh's residence either. Kejriwal termed these raids as "signs of desperation", adding that such raids willl continue till elections.
Meanwhile, AAP workers were detained in Uttar Pradesh's Lucknow after they staged a protest against the ED raided MP Sanjay Singh's residence in the Delhi excise police case.
What's Your Reaction?